Blog
Blog
Top 10 Things to Do This Fall In Utah
Published October 4th, 2019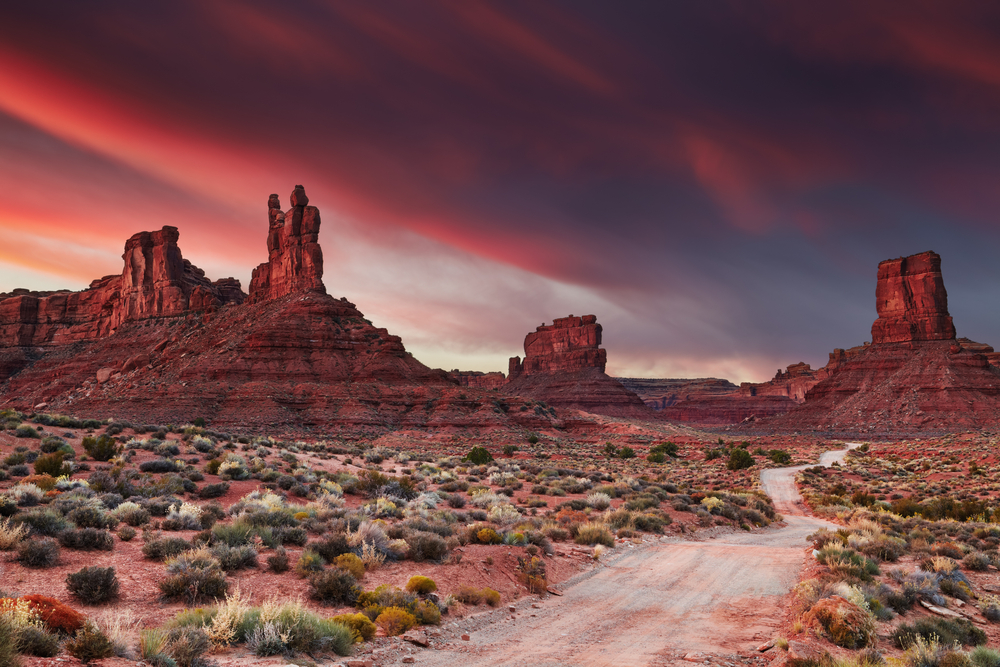 Utah is the place to visit during the fall season. There is an endless amount to explore and discover in all parts of the state. From hiking in the mountains to exploring old ghost towns, we have it all. Check out these top 10 things to do in the fall:
1. Bluff Fort Historic Site
Bluff is the first Anglo community nestled in the southeastern region of Utah, first settled in 1880. The original Bluff Fort was rebuilt by the Hole in the Rock Foundation and is open to visitors free of charge. The region was discovered by Mormon pioneers seeking to establish a mission on the San Juan River. Go back in time and take a Bluff history tour and explore the Adams House , Cemetery Hill or the Bluff Great House .
2. Valley of The Gods Scenic Drive
Just a few miles from Bluff is a 17-mile drive through the sculpted Cedar Mesa sandstone buttes. The Valley of the Gods offers a beautiful mountain range eroded by water and wind. This road connects on Hwy 163 and UT-261 where you can view all the geological formations. If you're feeling even more adventurous, stop near the Goosenecks State Park, Moki Dugway or Mulway Point.
3. The Narrows
Discover one of the most popular hikes in Zion Canyon. The Narrows , located in Springdale, is the narrowest section of the gorge, with walls towering at one thousand feet high. This hike requires you to get your feet wet, as you will be wading through the Virgin River. Most hikers choose to start the journey from the Temple of Sinawava via the Riverside Walk. Fall is the perfect time to plan a trip here because the weather is more stable and the chances of flash floods are low.
4. Hole N'' The Rock
You can find an unusual 5,000 square foot home carved out of enormous rock in Monticello (Utah's Canyonlands Country). All year long, this home, an unusual gift shop, and trading posts are open. In the beginning, Albert and Gladys Christensen began forming a small alcove for their sons. The project expanded and grew into a 20-year man-made engineering marvel. Take a day trip and tour the zoo, souvenir shop, general store, and trading post. Daily admission for the house tours are $6.50 for adults.
5. Mystic Hot Springs
If you're ready to cool down and relax after a long day of hiking, take a dip in the natural hot springs of Monroe! Get cozy by the wood-stove and rent a cabin for the weekend. Soak passes are $15 for adults, and the spas are open 24-hours. If you're staying in the local accommodations your soak pass is free ! Enjoy the mineral-rich waters, a natural waterfall, and shallow pools. Don't forget to check out the list of live music performances you can enjoy while soaking in your bath.
6. Thistle Ghost Town
In Fairview, a flooded ghost town still remains. The town of Thistle , Utah was first established in 1883 as a ranching community. Unfortunately, a massive landslide in 1983 damned two creeks, destroying and quickly flooding the town. This landslide is one of the costliest in U.S. history. Only a few structures remain, including a house on a hill, a schoolhouse, and an old train machine shop.
7. Celebrate Day of the Dead
Come join the fun on Dia de Los Muertos, in Salt Lake City on Friday, November 1st at The State Room in downtown. Admission is $15 for anyone 21 and older. This is a one of a kind event where spirits will come to visit. Also, this year will end the 86 year-old Utah 3.2 draft beer law dating back to Prohibition. Dance and sing to live entertainment by WEY, Thunderfist, and Mananero. Voted Salt Lake's best live music venue, The State Room's venue caters to live music lovers for an unrivaled intimate experience.
8. Celtic Festival, Scots on the Rocks
Visit Moab, at the Old Spanish Trail Arena for a weekend filled with Scottish and Celtic history. Immerse yourself in Celtic food, activities, and entertainment starting November 1st - November 3rd. Tickets range from $10 single-day tickets or $25 for the entire weekend. Delight in Highland dancing, pipe band and solo competitions and music from the Wicked Tinkers. There will be door prizes, a silent auction and much more! Get a discount on local lodgings and stay the entire weekend.
9. Tacos and Margaritas Fest
This festival fuses Utah's love for tacos and traditional Mexican cuisines. Food vendors will dish out, churros, burritos, chilies, and mouthwatering margaritas. Come join the celebrations in Salt Lake City, October 19th from 11:00 am to 9:00 pm at The Gateway. General admission is only $7 for an entire day of great food and live music. Don't miss out and grab your tickets now.
10. Bryce Canyon
Red and orange swirls encompass the rocks of Bryce Canyon beautifully during a day hike. These large basins have created brightly-colored pinnacles that jut out in the canyon. Camp in the North or South areas to be close to the visitor center. Bryce Canyon is one of the busiest national parks in the area, so make sure you grab a shuttle to minimize vehicle congestion. While you're there, make sure to visit the historic Bryce Canyon Lodge and Deluxe Cabins. The lodge is an architecturally significant structure part of a larger National Register district, incorporating the remaining standard facilities.
Take a breather from everyday life and come relax at one of these beautiful locations for the fall season.